Grain Marketing, It's Physical.
Grain Marketing is Grain Movement

By Cullen Wilson 10-10-19
It is a digital world but grain marketing is physical.  With the internet, electronic trading and "virtual elevators" it seems grain marketing can all be done on a computer from a beach or high rise.  But then it comes to the physical constraint of harvesting, moving, storing, delivering and grading physical grain. This physicality is where the rubber meets the road in grain marketing.  Eventually, grain marketing is grain movement. 
Farming is a physical commodity business. Farmers put physical inputs in the ground and harvest a physical crop off the field. A grain handler or user must receive grain eventually to turn your crop into revenue. 
Logistics is a constraint and consideration when marketing. Yes, they are paying more for corn 50 miles down the road. But does it make sense to truck it there considering logistical costs and time value? Knowing how many bushels need to move and when is key to maximizing revenue.
Proposal 1
I propose a farm maximize opportunity by prioritizing bushels and establishing a logistical plan. Plan the crop year grain movement logistics.
(See 10 Proposals below)
Priority
I created the visual below to equip farms to develop a grain movement plan.  The graphic equips the farm to segment bushels into sets and prioritize which sets need to be marketed first.   Set 1 is a priority over Set 2. Set 2 is a priority over Set 3. Note there are times when selling carry Set 2 bushels may meet revenue goals before Set 1.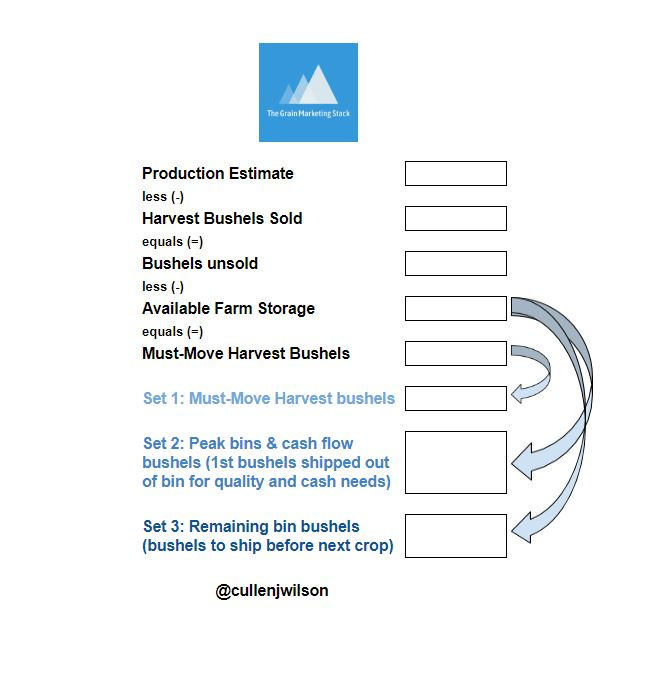 Price discovery
Future markets make price discovery easy.  There is a public exchange and every market participant with quotes can see the last trade.  Bids and offers are publicly visible as well. The futures markets are very transparent. Buyers and sellers are anonymous and are not known to each other. Futures are the universal price for a commodity but not the local price.   
Local cash prices are posted at delivery locations.  Most grain handlers post bids publicly on the internet. It's a transparent market but not as transparent as futures. Buyers post bids but sellers do not publicly post offers.
Discovering the market for local price is more difficult than the futures exchange.  Price discovery entails phone calls, face-to-face meetings, competition and negotiation. Discovery involves two or more humans interacting, so there will be emotion and contention.  Because of the same dynamic, trust and relationships can develop for a value-for-value exchange. 
Marketing physical grain adds a bit more complexity to grain marketing .
Grading
Corn, soybeans and wheat are made of biological matter.   This matter does breakdown and deteriorate. Grain quality eventually breaks down over enough time.  Grading of grain and soybeans is necessary to protect the integrity, utility and store-ability of the commodity in trade. It's a major factor in the cash markets that can't be overlooked or taken lightly. Merchants of physical grain can arbitrage between two grading schedules. How about you?
Its physical
Farms eventually have to move grain from field, to storage and then to market.  Grain marketing is grain movement. Maximize opportunity by planning the crop year grain movement. Get to know your local grain handler. They understand grain movement and physical grain. A digital elevator sounds cool but eventually physical grain needs a physical home.
If you find value in this newsletter feel free to share it with others. Thank you for reading.
-cjw
Cullen Wilson is a grain originator and leads a team of originators at Dakota Plains Ag Center, LLC in Yankton, SD.  The opinions stated in this newsletter are his and not that of his employer or affiliates. You may contact him at cullenjwilson@yahoo.com . Follow him on twitter @cullenjwilson
Disclaimer
This newsletter expresses the views of the author as of the date indicated and such views are subject to change without notice. The author has no duty or obligation to update the information contained herein. The newsletter is being made available for educational purposes only and should not be used for any other purpose.
Copyright © 2019 Cullen J. Wilson. All Rights Reserved. Information provided is general in nature and is provided without guarantee as to results. The information is not intended to be, and should not be construed as, trading, financial, insurance, legal, or tax advice. The author, its subsidiaries, and affiliates disclaim any liability arising out of your use of, or reliance on, the information.
Your situation is fact dependent and you should seek appropriate advice.
10 Proposals for Grain Marketing 
Article LINK
1. Plan crop year grain movement 
2. Establish a crop year cash flow plan
3. Set a revenue-per-acre goal. Article Link
4. Connect grain movement, cash-flow and revenue goals with firm target offers or open orders
5. Commit to a Ulysses contract, no more that 20% of production Article Link
6. Build a crop peril contingency plan with crop insurance and working capital
7. Identify relevant markets in proximity to the farm and build relationships there Article Link
8. Chart working capital monthly. Harvest Profit Blog Link
9. Track current revenue-per-acre, bi-weekly. Article Link
10. Record, reflect and adjust